Huebris has been busy! It's safe to say that 2012 has been a breakout year for us. We've added many new clients locally and regionally. We've branched out into new service offerings. With all that we are doing, we haven't had a chance to post to our blog in a while! One of the exciting things we're happy to announce is that we were featured on the front page of the business section of The Birmingham News. Roy Williams is a progressive reporter for the B'ham news (you can follow him on Twitter), and he covered our fledgling start-up's story in detail.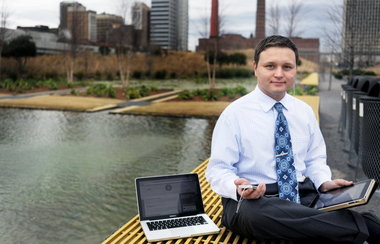 The story has been a great success for Huebris, with our phone ringing off the hook and emails abounding. We've had a new surge in business, and we are scaling gracefully as we meet our new client's expectations. Social Media Marketing is still our fastest growing area of services. Here's a link out to the article:
Entrepreneur: Huebris helps businesses with Web design, social media, Internet marketing
We would like to thank Roy Williams, Tamika Moore (Photographer) and The Birmingham News for spotlighting Huebris and for supporting local small business!